By Robyn Vagnozzi on Monday, December 3rd, 2012
Far from the beaten path of the glitz and glitter of Hollywood's Sunset Strip, lies downtown L.A., which itself is filled with gems hidden on the small one way streets that traverse through town, such as the Mayan. No one would ever believe this venue houses a 5,000 square foot stage making it the perfect place to see a multi-media show as guests buzzed back and forth about what they were going to see. No one really knew what to expect; they had an idea but it always goes differently in your head.
Standing in front of the stage, people admired the set design and smiled when at about 8:20pm, the lights went down and we were transported to a time capsule if you will; as the door of the Rock Vault slid open revealing vocalist Andrew Freeman, (Lead Vocals and Guitars – Lynch Mob, The Offspring) who strutted out with intense energy and a grin from ear to ear as he tore into My Generation by The Who, backed by world-class musicians Howard Leese (Guitar – Heart, The Paul Rodgers Band), Joe Lynn Turner (Lead Vocals – Rainbow, Deep Purple), Tracii Guns (Guitar – L.A. Guns, Guns N' Roses), Robin McAuley (Lead Vocals – MSG, Survivor), John Payne (Lead Vocals and Bass – Asia), Paul Shortino (Vocals – Rough Cutt, Quite Riot), Jay Schellen (Drums – Hurricane, Asia), Lorraine Lewis (Vocals – Femme Fatale) and Michael T Ross (Keyboards – Lita Ford, Hardline, Angel).
The Mayan rocked for two hours as the story of rock n' roll from the 1950s to the 1990's played out in live music, narration (by acclaimed actor Richard Malmos), dance and visuals cast upon two screens to the left and right of the stage. Written by vocalist and guitarist John Payne (Asia) and Grammy-award winning record producer, David Kershenbaum, Raiding the Rock Vault is a welcomed and entertaining ride. This is not what some might consider a gig as much as a true interactive show. Guests were able to get so close to the stage at this particular club; without realizing it, they were part of the show; dancing and singing along. While that may or may not be the goal in most venues the band plans to visit, this was a special evening. When Payne and the crew hit the road with Raiding the Rock Vault, there is no way this production will be able to go into a small club or venue; there is just too much that would get lost in the translation.
These men have nothing to prove; they made their bones long ago so getting on stage for Raiding the Rock Vault, is a labor of love. As the years rolled forward on the LED screens, the band performed songs, which made an impact during the history of that time. Every song played was spot on and tight, but stand-outs were Hotel California (Eagles), Jump (Van Halen) Living On A Prayer (Bon Jovi), and Armageddon (Def Leppard).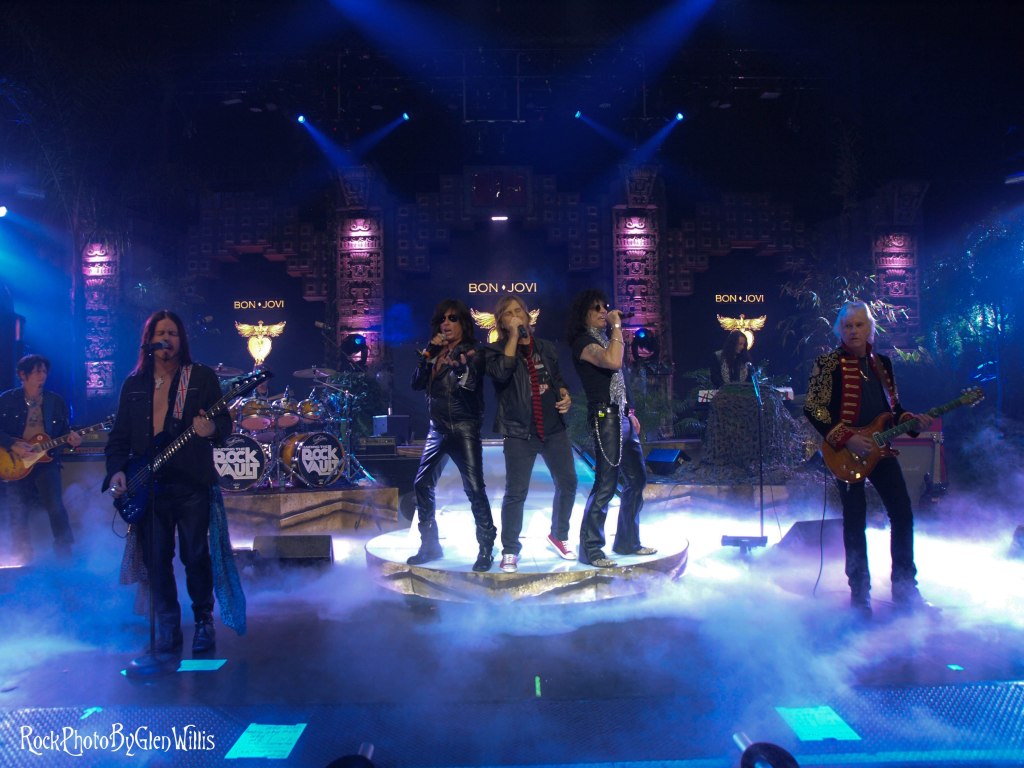 The troupe from Raiding the Rock Vault, did one night only for the Los Angeles crowd and for this being their first show played out live, Payne and his crew should be proud; they put together a great event and you get to learn something on top of it; "ah-ha" moments are cool. They're currently rehearsing and getting ready to bring the show to U.S. audiences in early spring making this possibly one of the hottest tickets in 2013, as different musicians will sit in on different nights depending on the town the tour is in and the celebrity musicians visiting at the same time. If you're a 'Rock Of Ages' fan and have a true fascination with the roots that have brought us forward to today, don't miss Raiding the Rock Vault; a different spin on classic rock.