"RAIDING THE ROCK VAULT"
It's a Spectacular show telling the Chronological story of Classic Rock set for the Mayan Theatre in Downtown Los Angeles
Thursday, November 29
Featuring Rock 'n' Roll luminaries Joe Lynn Turner, Howard Leese, Tracii Guns and more
It all adds up to "THE GREATEST SET LIST EVER"
The history of rock 'n' roll will come to life like never before with RAIDING THE ROCK VAULT. The spectacular show is set for Thursday, November 29 at the Mayan Theatre (1038 S Hill St.) in Downtown Los Angeles, leading up to a nationwide tour in 2013.
Narrated, sung and acted along with compelling imagery including historical footage, the show transports the audience back to a magical musical journey from 1950 t0 1990. Tickets are currently available HERE for $10.
Traversing the genre's history chronologically through the '50s, '60s, '70s and '80s, through to the year 1990, RAIDING THE ROCK VAULT features classic anthems from The Who, The Doors, Jimi Hendrix, Free, The Eagles, Led Zeppelin, Bryan Adams, Van Halen, Deep Purple, Queen, KISS, Rolling Stones and more, truly boasting "The Greatest Set List Ever."
These timeless gems are translated on stage live and loud by an all-star band comprised of Howard Leese [Guitar] (Heart, The Paul Rodgers Band), Joe Lynn Turner [Vocals] (Rainbow, Deep Purple), Tracii Guns [Guitar] (LA Guns, Guns n' Roses), Robin McAuley [Vocals] (MSG, Survivor), John Payne [Bass and Vocals] (Asia), Paul Shortino [Vocals] (Rough Cutt, Quite Riot), Jay Schellen [Drums] (Hurricane, Asia), Andrew Freeman [Guitars and Vocals] (Lynch Mob, The Offspring), and Michael T Ross [Keyboards] (Lita Ford, Hardline, Angel).
In addition, the entire show follows a compelling theatrical narrative told via narration by acclaimed actor Richard Malmos in front of the giant ROCK VAULT onstage, the music, performance, and visuals come together to tell this unforgettable tale.
Written by esteemed Grammy Award-winning record producer David Kershenbaum (Joe Jackson, Tracy Chapman, Supertramp) and musician, producer and vocalist John Payne (Asia), RAIDING THE ROCK VAULT was born to give audiences an important history lesson, while encouraging them to rock out as much as possible. It's as fresh and fiery as it gets.
Payne excitedly comments, "This show will be an extravagant production melding rock and roll, stunning visuals and acting in a never-before-seen form. I am so proud to be part of this and excited to be performing alongside such legendary musicians." Executive producer Sir Harry Cowell (a music industry veteran) adds, "I have worked on the odd rock and roll show in my career, but this is going to be the biggest and most fun of all of them. Bring it on!" Joe Lynn Turner agrees, "RAIDING THE ROCK VAULT is the real deal! Others have tried to attempt a similar show but nothing will be like this! I am honored and proud to be a part of what is soon to be a part of rock and roll history!"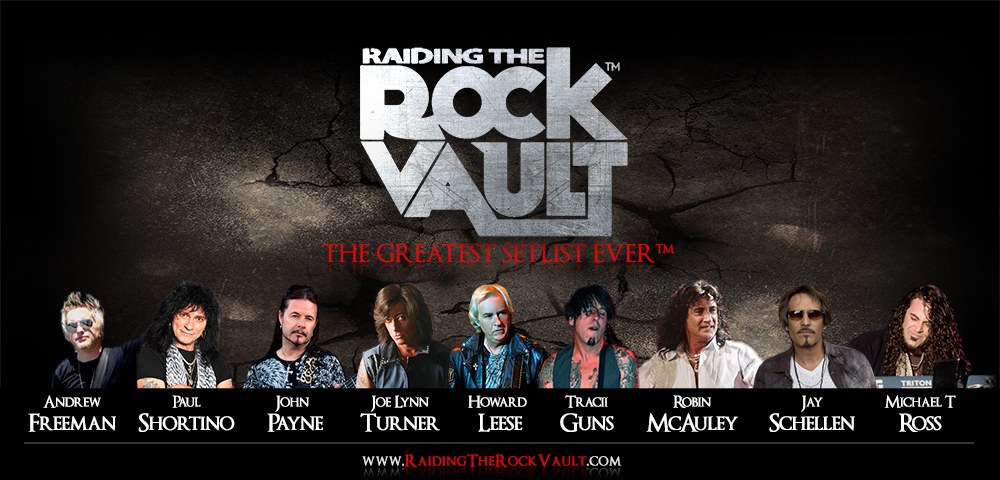 The VAULT will open and you may never view rock 'n' roll the same way.

[list]
Press Releases & Assets: 
www.msopr.com/n/client-roster/raiding-the-rock-vault
For more information on RAIDING THE ROCK VAULT,
Please contact:
MSO PR: 818.380.0400
Aaron Feterl, x237, aaron@msopr.com
Mitch Schneider, x235, mschneider@msopr.com