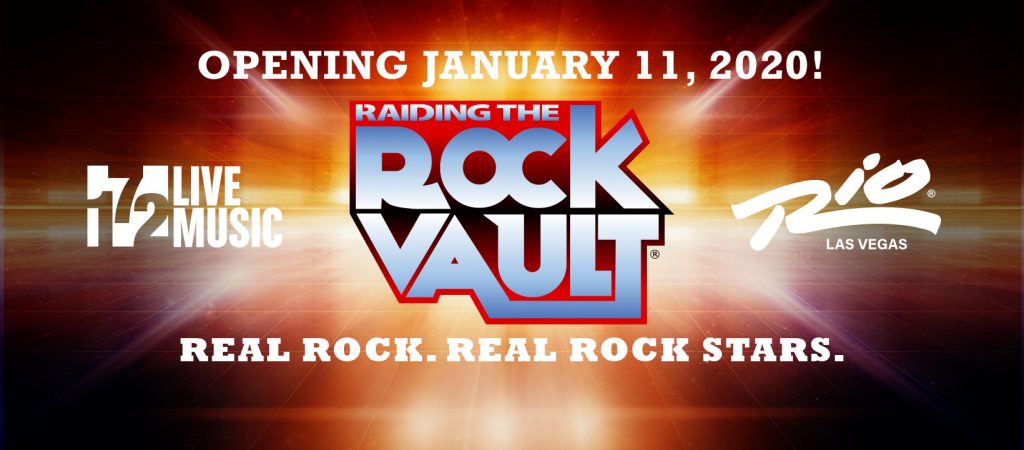 LAS VEGAS (September 30, 2019) – Raiding the Rock Vault joins the lineup of first-class entertainment at Rio All-Suite Hotel and Casino Las Vegas starting January 11, 2020 in the live music club 172. Tickets will go on sale October 17, 2019.
Raiding the Rock Vault was voted Best of Las Vegas 2014, 2015, 2016, 2017 and 2018 by readers of the Las Vegas Review-Journal and has consistently been a top-ranked Las Vegas show on TripAdvisor. Raiding the Rock Vault tells the story of classic rock from the 1960s to the 1980s and is performed by members of some of the greatest rock bands in history.
"Las Vegas locals and visitors welcomed Raiding The Rock Vault with open arms," said producer Sir Harry Cowell. "We are pleased to continue to provide fans a chance to see world-class, Hall of Fame rock stars up close."
The show's rotating lineup of rock stars include:
Howard Leese [Guitar] (Heart) – Rock and Roll Hall of Fame Member
Hugh McDonald [Bass] (Bon Jovi) – Rock and Roll Hall of Fame Member
Rowan Robertson [Lead Guitar] (Dio)
Robin McAuley [Lead Vocals] (MSG, Survivor)
Paul Shortino [Lead Vocals] (Rough Cutt, Quiet Riot)
Cian Coey [Lead Vocals] (Meat Loaf, Dweezil Zappa)
Blas Elias [Drums] (Slaughter, Trans-Siberian Orchestra)
Michael T. Ross [Keyboards] (Lita Ford, Missing Persons)
Phil Soussan [Bass] (Ozzy Osbourne, Billy Idol, Last in Line)
Todd Kerns [Lead Vocals] (Slash)
John Bisaha [Lead Vocals] (The Babys)
Jay Schellen [Drums] (Yes, Asia, Badfinger)
Doug Aldrich [Guitar] (Whitesnake, Dio, The Dead Daisies)
Tony Franklin [Bass] (The Firm, Whitesnake, Blue Murder)
Christian Brady [Lead Guitar] (Hellyeah)
Z Maddox [Lead Guitar] (Rock of Ages)
Jason Boyleston [Guitar] (Paul Rodgers Band)
Megan Rüger [Lead Vocals] (The Voice)
Johnny Solinger [Lead Vocals] (Skid Row)
Paul Johnson [Lead Vocals] (Rock of Ages)
Dan Grennes [Bass] (Billie Joe Armstrong, Melissa Etheridge)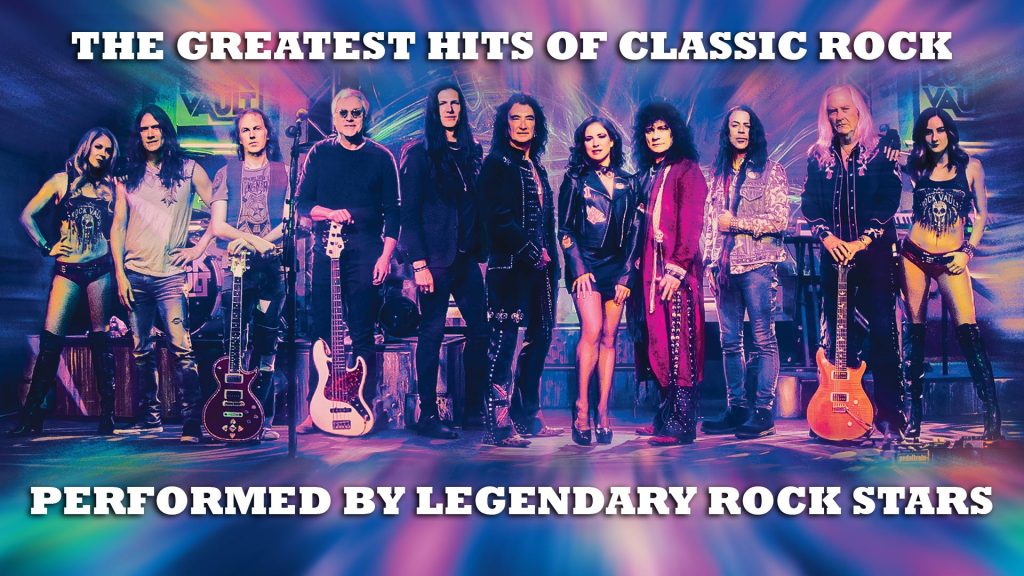 The production brings the history of rock 'n' roll to life, featuring classic anthems by the biggest acts in music, including The Rolling Stones, The Who, The Doors, Jimi Hendrix, Led Zeppelin, Deep Purple, Free, Eagles, Fleetwood Mac, Queen, Boston, Kansas, Aerosmith, Van Halen, AC/DC, Pat Benatar, Foreigner, Heart, Journey, Bon Jovi, Whitesnake and many more.
Currently, Raiding the Rock Vault performs at Vinyl inside Hard Rock Hotel & Casino Las Vegas, Saturday-Wednesday nights through December 30, 2019 and select tour dates internationally, including Oct. 11, 2019 in Juneau, Alaska and Dec. 5-7, 2019 at Subertania, London UK.
"In addition to the show, fans of Raiding the Rock Vault can enhance their experience by enjoying the best sushi in town," says 172 owner Tony Sgro.
172 at Rio All-Suite Hotel and Casino Las Vegas provides features nationally acclaimed musical performances in an intimate and personal atmosphere, while offering upscale cuisine and craft cocktails from around the world.
Raiding the Rock Vault will perform Saturday-Wednesday at 7:30 p.m. starting Jan. 11, 2020, with tickets ranging from $69-$109 plus tax and fees. A Rock Star Package upgrade is also available with any ticket for $99, which includes a meet and greet with the Rock Stars prior to the show, a souvenir VIP laminate, and concert program.
Tickets go on sale October 17, 2019 on Ticketmaster – available online at www.raidingtherockvault.com/tickets/
ABOUT 172
Vegas' newest and coolest rock venue 172, located inside of the iconic Rio All-Suites Hotel and Casino, adjacent to the Chippendales Theater, features sexy rock and roll decor that provides the perfect setting for the show. 172 features elevated fusion dining highlighted by their amazing sushi selection, making it the perfect place to have dinner with craft cocktails and listen to live music. 172 is named after the famous Krakatoa volcanic explosion of 1883 which registered the loudest sound ever recorded on the planet – a sound so incredibly loud it circled the earth four times and registered 172 on the decibel scale, recorded over 100 miles away.
Social Media
Instagram: @rock_vault @172.rock @riovegas @_chefjoejitsu_
Twitter: @rock_vault @oneseventytwo @riovegas
Facebook.com/RaidingtheRockVault
Rio All-Suite Hotel & Casino
Rio All-Suite Hotel & Casino, home of the World Series of Poker, offers guests a unique all-suite hotel experience. Complete with 2,522 all-suite hotel rooms – including the Samba suites and the luxurious Palazzo Villas with a private entrance – the property overlooks the Las Vegas Strip and sits one block west of the famed boulevard. Rio All-Suite Hotel & Casino is operated by a subsidiary of Caesars Entertainment Corporation (NASDAQ: CZR). For more information, please visit riolasvegas.com or the Caesars Entertainment Las Vegas media room. Find Rio All-Suite Hotel & Casino on Facebook and follow on Twitter and Instagram.