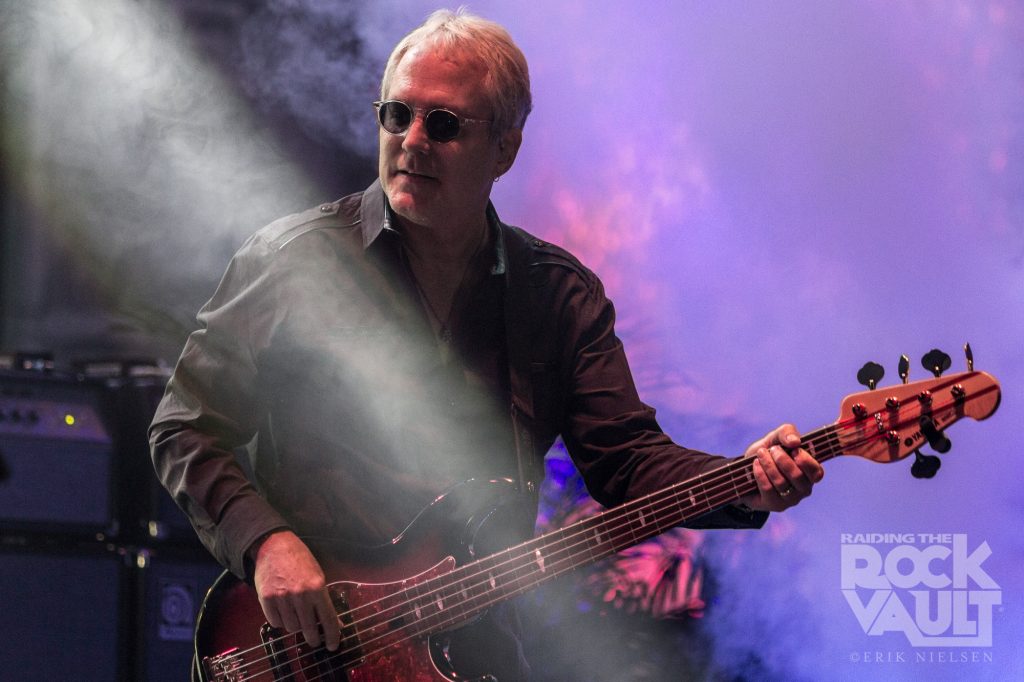 RAIDING THE ROCK VAULT has announced that bassist Hugh McDonald has joined its official lineup at LVH – LAS VEGAS HOTEL & CASINO. The esteemed musician, best known for his longtime work with Bon Jovi, has also performed throughout his career with music icons including Alice Cooper, Ringo Starr, and more.
Before joining Bon Jovi, McDonald was the bass player for the David Bromberg Band, touring world-wide and playing on many Bromberg albums. He was one of the studio musicians that recorded Bon Jovi's original first demo for the song "Runaway." McDonald has also recorded with Willie Nelson, Richie Sambora, Steve Goodman, and Lita Ford.
RAIDING THE ROCK VAULT, the hit show, featuring "Classic Rock by Those Who Rocked It," was recently named Reader's Choice "Best of Las Vegas 2014" by the Las Vegas Review-Journal and has consistently been ranked as the #1 show in Las Vegas on Trip Advisor.
Bringing the history of rock 'n' roll to life, RAIDING THE ROCK VAULT pays homage to rock's greatest hits from the '60s, '70s, and '80s, including classic anthems from The Rolling Stones, The Who, The Doors, Jimi Hendrix, Led Zeppelin, Deep Purple, Free, The Eagles, Fleetwood Mac, Queen, Boston, Kansas, U2, Aerosmith, Van Halen, AC/DC, Pat Benatar, Foreigner, Heart, Journey, Bon Jovi, Whitesnake, Supertramp, and many more.
The show's all-star lineup includes Rock and Roll Hall of Fame member Howard Leese [Guitar] (Heart), Robin McAuley [Lead Vocals] (MSG, Survivor), Doug Aldrich [Guitar] (Whitesnake, Dio), Paul Shortino [Lead Vocals] (Rough Cutt, Quiet Riot), Jay Schellen [Drums] (Badfinger, Asia), Andrew Freeman [Lead Vocals and Guitars] (Lynch Mob, The Offspring), Michael T. Ross [Keyboards] (Lita Ford, Hardline), and outstanding female vocalists, Carol-Lyn Liddle (Masters of Rock) and Stephanie Calvert (Starship).
RAIDING THE ROCK VAULT performs Friday through Tuesday nights weekly (schedule subject to change) at 8 p.m. in the LVH Theater. Ticket prices range from $49 to $80 plus taxes and fees. A special Rock Star Package is available for $140 (which includes tickets in the first five rows, t-shirt, concert program, CD, meet and greet and VIP pass). A special 2-for-1 locals discount will be available for a short time (must present valid Nevada ID) and there are dinner/show packages with the world-famous Benihana and Vince Neil's Tatuado Restaurant & Cantina. Tickets can be purchased by visiting the LVH box office or by logging onto thelvh.com, vegas.com, or ticketmaster.com. Tickets can also be purchased by calling 702-732-5755 or 1-800-222-5361.
About LVH – Las Vegas Hotel & Casino
LVH – Las Vegas Hotel & Casino, a legendary world-class destination, offers a unique blend of amenities and excitement with all your favorite table games, hottest slots on the market, incredible restaurants, endless entertainment, more than 200,000 square feet of meeting space and the world's largest race and sports SuperBook™. LVH – Las Vegas Hotel & Casino provides a range of culinary adventures including exhibition-style Japanese cuisine at the world-famous Benihana, fine steaks at TJ's Steakhouse, Mexican specialties and fabulous margaritas at Vince Neil's Tatuado Restaurant & Cantina, mouth-watering burgers at Burger Bistro, Pan-Asian dining at 888 Noodle Bar, authentic Japanese sushi at Teru Sushi, a traditional buffet that features tastes from around the world and more. LVH boasts a strong entertainment schedule led by "Raiding the Rock Vault" in the LVH Theater, as well as a variety of on-going headliners, comedy and production shows in the Shimmer Cabaret. Its proximity to the Las Vegas Convention Center and its designation as a Monorail station (connecting it to the Las Vegas Strip) makes it the ideal hotel for conventions and visitors alike. For more information or to book accommodations, call toll free at (800) 732-7117 or log on to www.thelvh.com or connect with us on our social pages: www.thelvh.com/Hotel/stayconnected.