Raiding the Rock Vault's Great Fan Reviews Earn it a Place Among Travelers' Favorites
Las Vegas, NV – August 14, 2023 – Raiding the Rock Vault today announced it has been recognized by Tripadvisor as a 2023 Travelers' Choice award winner for Las Vegas Concerts & Performances. The coveted award celebrates businesses that have consistently received great traveler reviews on Tripadvisor over the last 12 months, placing these winners among the 10% of all listings on Tripadvisor globally.
"We are pleased to continue to be recognized as one of the top shows in Las Vegas and are now celebrating our 10th year in Las Vegas at the Hard Rock Cafe Las Vegas. Since the beginning, fan reviews on Tripadvisor have been a key part of our success," said Producer Sir Harry Cowell.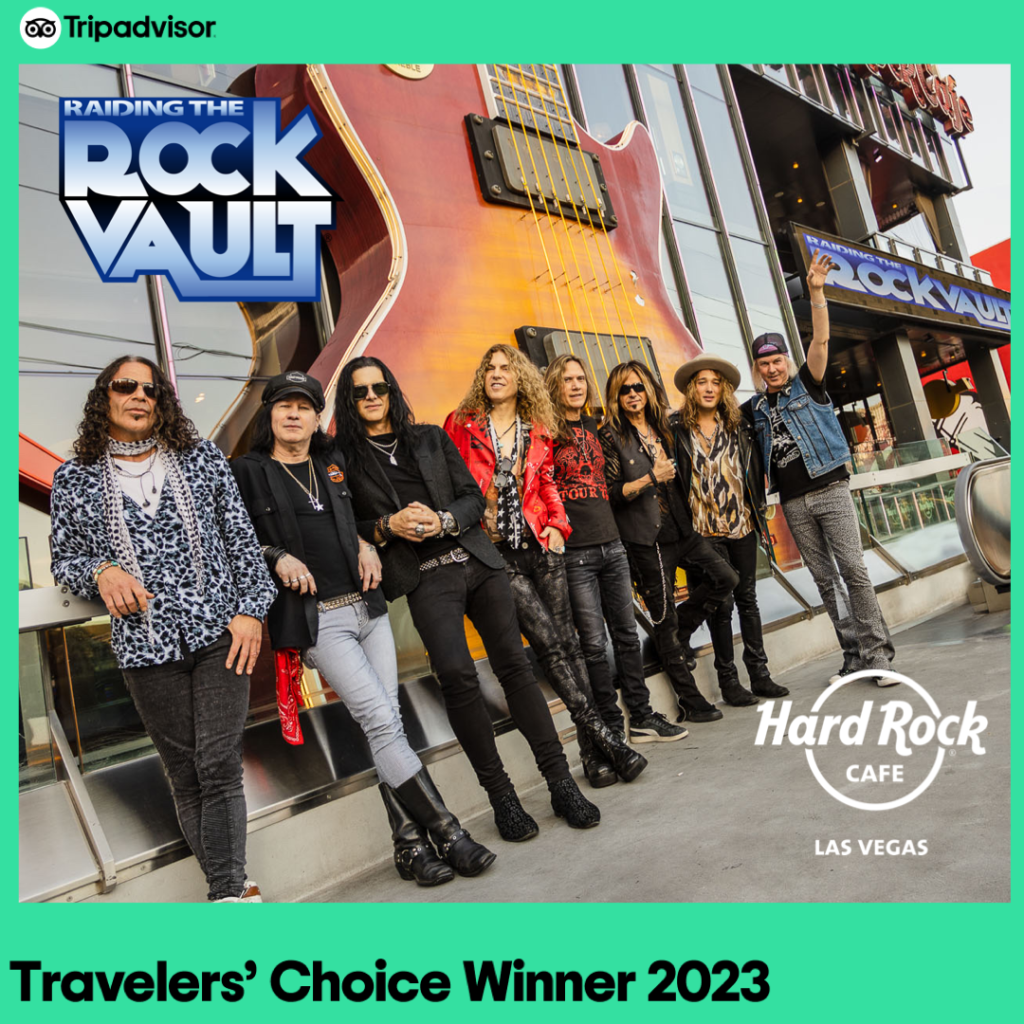 "Congratulations to the 2023 Tripadvisor Travelers' Choice winners," said John Boris, Chief Growth Officer at Tripadvisor. "The travel resurgence we've seen throughout the past year has even further heightened the competition. Earning a Travelers' Choice Award demonstrates that you have provided great experiences to those who matter most: your guests. With changing expectations, continued labor shortages, and rising costs, this is no easy feat, and I am continually impressed with the hospitality industry's resilience and ability to adapt. Cheers to another successful year!"
Raiding the Rock Vault tells the story of classic rock from the 1960s to the 1980s presented by rock stars who performed them.
The production brings the history of rock 'n' roll to life, featuring classic anthems by the biggest acts in music, including The Rolling Stones, The Who, The Doors, Jimi Hendrix, Led Zeppelin, Deep Purple, Free, The Eagles, Fleetwood Mac, Queen, Boston, Kansas, Aerosmith, Van Halen, AC/DC, Pat Benatar, Foreigner, Heart, Journey, Bon Jovi, Whitesnake, and more.
Tickets start at $49 plus tax and fees. A Rock Star Meet and Greet upgrade is available for $100 for any ticket level and includes a meet and greet and photo opportunity with the rock stars prior to the show and a show program. Ticket buyers also benefit from a 20% discount at the Hard Rock Café. All Preferred seats come with high-top tables, front VIP sections are couches.
For tickets link https://www.universe.com/events/raiding-the-rock-vault-tickets-LNJYPF
SOCIAL MEDIA
Instagram: @rock_vault
Twitter: @rock_vault
Facebook.com/RaidingtheRockVault
MEDIA CONTACTS
For Raiding the Rock Vault
Erik Nielsen
social AT raidingtherockvault.com
Sylvia Welsh
sylvia AT downtowndmc.com
About Tripadvisor
Tripadvisor, the world's largest travel guidance platform, helps hundreds of millions of people each month* become better travelers, from planning to booking to taking a trip. Travelers across the globe use the Tripadvisor site and app to discover where to stay, what to do and where to eat based on guidance from those who have been there before. With more than 1 billion reviews and opinions of nearly 8 million businesses, travelers turn to Tripadvisor to find deals on accommodations, book experiences, reserve tables at delicious restaurants and discover great places nearby. As a travel guidance company available in 43 markets and 22 languages, Tripadvisor makes planning easy no matter the trip type. The subsidiaries of Tripadvisor, Inc. (Nasdaq: TRIP), own and operate a portfolio of travel media brands and businesses, operating under various websites and apps.
Source: SimilarWeb, unique users de-duplicated monthly, March 2023
** Source: Tripadvisor internal log files